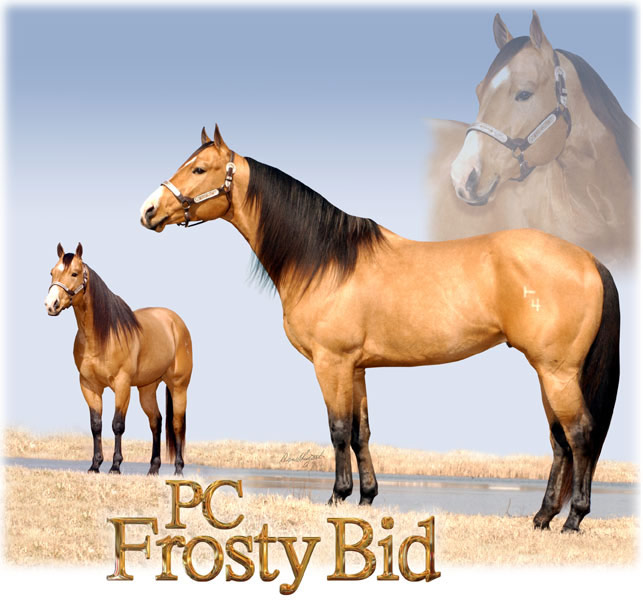 PC Frosty Bid is a Future Fortunes Stallion by Sun Frost and out of Gee Gee Decade. Frosty's LTE are in excess of $105,000. Frosty is a proven sire of accomplished barrel racing, calf roping, team roping and steer wrestling horses. Still sound and performing. He was also a qualifier for the 2016 RFD-TV American Semi Finals.
Shipped Semen Available
Download Pedigree Info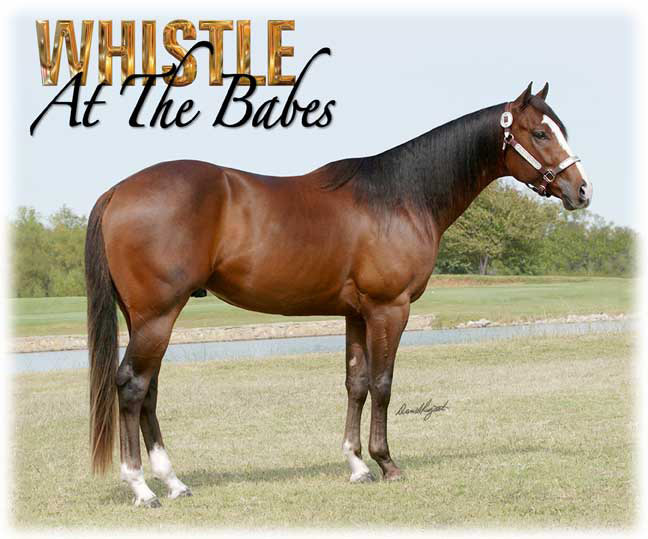 Stud Fee: $1000.00
Shipped Semen Available
Babes is by No Whistle. No Whistle and out of Fols Debbie.
No Whistle achieved a speed index of 103 and placed in the Jay Chambers Memorial Futurity and the Oklahoma Futurity. Retired to stud, he sired 35 starters, 13 winners and the earners of 16 race ROMs.
Fols Debbie is by Fol's Native (TB) and out of Millie Jet Dec by Jet Deck Junior. After a successful race career that saw her achieve a speed index of 96, "Debbie" has went on to produce four ROM racehorses, including Fols Dream Of Cash, S.I. 104; and Fols Romeo, S.I. 94. In addition, she is the dam of the barrel race winners of more than $250,000.
Download Pedigree Info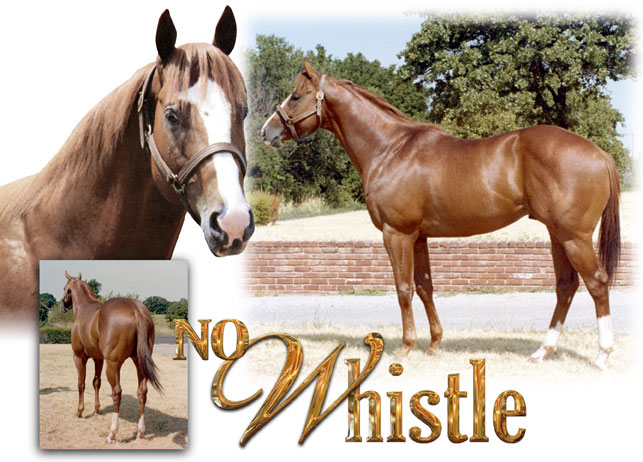 No Whistle si 103 is a multiple stakes-placed winner of 6 races and $26,000 who placed in the Jay Chambers Memorial Futurity and Oklahma Futurity.
By Away From Holme (TB), stakes winner and stakes sire by "Noholme 2nd, Away From Holme is the sire of 52 Quarter Horse starters that have average earnings per starter of nearly $8,000 including the Ruldoso stakes winner Holme Maid ($231,000). Away From Holme's Thoroughbred starters are 21% stakes horses and include 1 stakes winner and 2 stakes placed winners from 13 starters this year.
No Whistle
Deceased, For Reference Only
Noholme II (TB)
Star Kingdom (TB)
Star Dust (TB)
Impromptu (TB)
Away From Holme (TB)
Oceana (TB)
Colombo
Orama
Courthea (TB)
Supreme Court (TB)
Precipitation (TB)
Forecourt (TB)
Dorothea 2nd (TB)
Hyperion (TB)
Celestial Way (TB)
Little Whistle si 85
Tonto Bars Gill si 95
Three Bars (TB)
Percentage (TB)
Myrtle Dee (TB)
Tonta Gal si 95
Clabber si 85
Peggy Cooper
Low Whistle (TB)
Tarry Long (TB)
Ariel (TB)
Tarn (TB)
Wolfess (TB)
Blackwood (TB)
Woof (TB)
Contact Us with Questions
Download Our Contract For Review